Valentine's Day Is Blooming
Published:

Wednesday 29 January 2020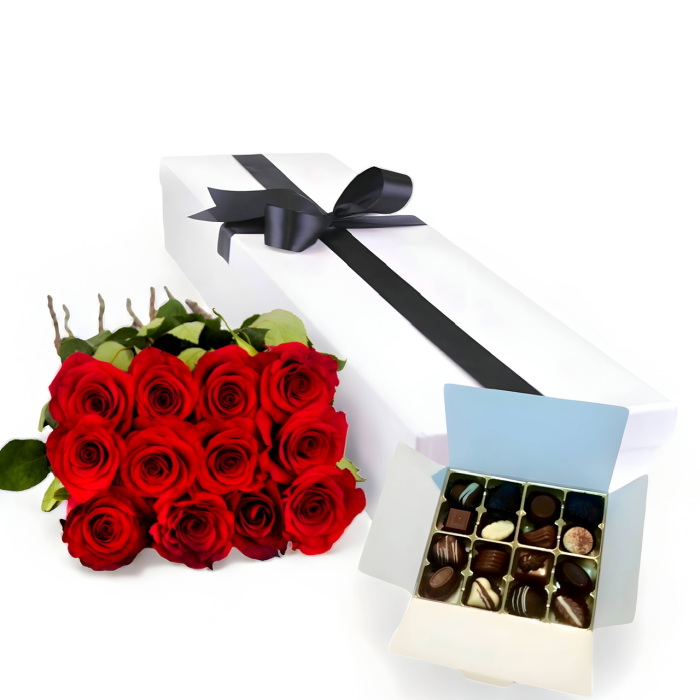 New Year has passed and February is upon us which means a special day for couples is looming and as your Brisbane CBD florist, Flowers by Jane is prepared for Valentine's Day. Every year we enjoy preparing a dozen red roses or a single red rose in a beautiful box or a vase, coupled with chocolates depending on your choice. Our roses are grown in glasshouse condition and we do not utilise imported or field roses therefore you can be confident in the quality for money well-spent. We know how special it is to send red roses on Valentine's Day to the special person in your life and we offer same day delivery for orders processed before 2pm. Naturally, Valentine's Day is an extremely busy day for us so getting your order in early is best so you can grab the pick of the bunch. If red roses are not your thing and a little too cliché, we offer a variety of colours including pink, orange, yellow and white and you can obtain a bunch that has all of the colours which makes for a true beauty as a bouquet. We also offer roses, lillies and orchids as a thoughtful bunch and a beautiful bouquet of seasonal red-toned flowers especially for Valentine's Day. Your style and that what you know will delight your partner can come into play with our arrangements and we are passionate about ensuring we offer truly beautiful bouquets to tantalise the senses. As your Brisbane CBD florist, Flowers by Jane is a premium florist that offers majestic flower arrangements for pick up from our store or delivery.
Valentine's Day Celebration Ideas
There are so many ways you can spend celebrating a truly special day with your partner beginning with giving them beautiful flowers to spoil them and let them know how much they mean to you. As a premier Brisbane CBD florist, Flowers by Jane can help you gift beautiful flowers for your special person. But what is behind the Valentine's Day celebrations? This day is named after Saint Valentine who was a Catholic Priest in Rome during the third century. The Emperor Claudius II who was a Pagan during the time many Romans were converting to Christianity over Catholicism was of the belief that Roman soldiers should be committed to Rome and passed a law that prevented them from marrying. Saint Valentine subverted this by beginning to marry soldiers in secret ceremonies and so blossomed the symbolic gesture of love and commitment. After being discovered, Saint Valentine was jailed and executed on the 14th of February in the year 270. Poetry of love and courtship grew from the Middle Ages, a connection to Saint Valentine's essence of romantic love and today, love poetry is still considered a beautiful way to express romance for someone special. Beyond poetry and songs, there is more creativity for celebrating Valentine's Day that a couple can do to express their love for one another. Ideas include creating a scrapbook of your relationship together, crafting something up together or arranging a framed picture of the two of you on a happy occasion to remember. A wander through a beautiful area of nature and smelling the flowers as you go is another romantic way to spend quality time together as is a beach picnic and walk. A day of wine with cheese and chocolate is an exquisite way to spend the day and start the day with breakfast in bed. Booking a cruise or sail as a surprise for your partner is a lovely way to celebrate Valentine's Day or be a little alternative and go to an Escape Room where together you can follow clues to solve a mystery and escape the room. If you're looking for out there experiences why not try a helicopter ride over the city and/or beaches or enjoy mountain views; there is also a special flight "Winery Fly & Dine" to Sirromet Winery offering panoramic views of Brisbane, the Gold Coast, Moreton Bay and Mt Cotton. What better way to spoil your special person on Valentine's Day!
Is Valentine's Day The Day To Propose?
Some may say it's a cliché to propose on Valentine's Day while others might consider this truly the right day for a proposal to your partner. Is Valentine's Day the day to propose? Well, love is certainly in the air on that special day of the year and saying it with exquisite flowers from your Brisbane CBD florist, Flowers by Jane is one way to propose. Instead of choosing the New Year to make that special move, why not propose on the most romantic day of the year and you'll always remember the date! It's practically your last chance of the festive season with lots of celebrations from December through to January; February is the month to do it. An engagement ring is possibly the most romantic Valentine's Day gift beyond flowers from your Brisbane CBD florist. You could take your partner on a drive, sail or cruise, recreate a special occasion from where you had your first date or kiss or play a treasure hunt with clues leading to the ring. Say it in English or try in a different language such as French or Italian which are both love languages. Valentine's Day is one day to remember and make it even more memorable with flowers from your Brisbane CBD florist, Flowers by Jane and a proposal.
Tags: General
Related Articles in General